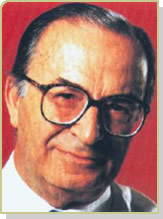 COMPOSERS AND PERFORMERS
İLHAN USMANBAŞ
(1921– )
Of our second generation of composers, İlhan Usmanbaş has been a pioneer, scoring successes on an international level, and has received composition awards.
After graduating from the Galatasaray College, he entered the Istanbul Municipal Conservatory, where he became the student of Cemal Reşit Rey. In 1942, he entered the Composition department of the Ankara Conservatory, and studied with Hasan Ferit Alnar.
In 1948, he graduated from the upper level of the Conservatory, as a student of Saygun; he completed his 1st Symphony as his graduation piece. He married the voice/opera graduate Atıfet Üçkök, and was later appointed to the teaching faculty of the Conservatory, where he taught harmony, structure, music history and composition. In 1964 he became director of Ankara Conservatory, and in 1974 was transferred to Istanbul Conservatory in the same capacity.
In addition to his many years as a teacher of composition in Tiurkey, he Usmanbaş has also published book translations, seminar proceedings and articles.
Book Translations:
Müzikte Türler ve Biçimler (Translated from the original by André Hodeir)
Kısa Dünya Musıkisi Tarihi (Translation from original by Curt Sachs)
Müzikte Türler