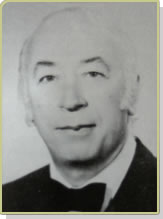 COMPOSERS AND PERFORMERS
ETEM RUHİ ÜNGÖR
(1922-) Born in Istanbul, Etem Ruhi Üngör is a graduate of the Turkish Music Department of the Istanbul Municipal Conservatory. He has taught kanun and music theory at the Üsküdar Music Society, the Advanced Turkish Music Conservatory, the Kadıköy Halkevi and the Bursa Arel Conservatory.
He was the general publications manager and owner of Turkey's longest-lived musicology journal, "Musiki Mecmuası, and has read musicology-related papers at a variety of congresses, panels and symposiums.
From 1967-1976 he collected around 400 folk instruments during the course of a research project he conducted over a large portion of Turkey. The most comprehensive portion of Turkey's organology and instrument collection is in Üngör's archive.
Books:
Türk Marşları, Ankara, 1965
Türk Musikisi Güfteler Antolojisi, Istanbul, 1981
Karagöz Musikisi, Ankara 1989