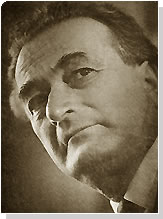 COMPOSERS AND PERFORMERS
AHMET ADNAN SAYGUN
(1896-1962)
Born in Istanbul, Ahmet Muhtar Ataman studied for a time in the French curriculum "Alliance Israelite" school. He was a specialist in musicology and in music history in particular. Although he did not have any formal musical training, he successfully educated himself. With a knowledge of French, Italian and Hebrew, Ataman became a well-known musicologist both for his compilations as well as his translations.
Books Published:
Musiki Tarihi, Ankara 1947
Mufassal Musiki nazariyatı / Paul Raugnan, [Çeviren Ahmet Muhtar], Maarif Vekâleti, 1930
Harmonie / Rimsky Korsakof, [Çeviren Ahmet Muhtar], İstanbul, 1934
Schubert Dr. Albertine Morin-Labrescue, [Çeviren: Ahmet Muhtar Ataman], 1946, 38 S., 0.50 TL, Akay Kitabevi, Büyük Müzisyenler Serisi: 2.
Musiki Alfabesi ve Musiki Dersleri, 1940.